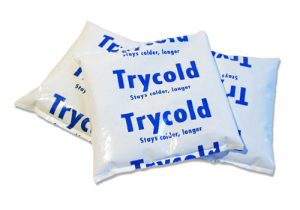 The gel ice packs we carry are manufactured in Michigan with the highest grade 4.1mil USDA approved polyethylene film and use only the finest non-toxic gel material available for a longer lasting gel pack. Our gel packs come in 10 stock sizes.

Discount at 10+ cases. Give us a call for a customized quote if you're ordering by the skid (50 cases).

Compare to big box stores and you'll save up to 50% because our cases are twice the size at a similar price.

Also try our...
Trycold Gel Packs are non-toxic but should be disposed of properly. View disposal instructions.
---